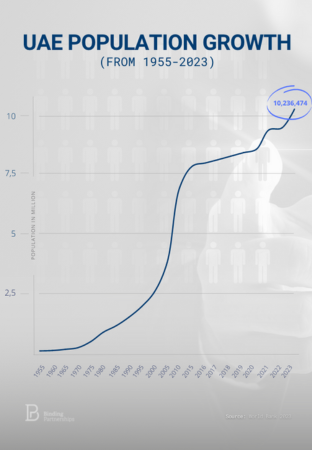 Looking back over the last half-century, Dubai has been the world's fastest-developing city. What was once a little fishing hamlet of 20,000 inhabitants in 1960 has grown to house millions of people from all over the world.
A number of significant events in the region have influenced this rise. First, the discovery of oil in the late 1950s drew international investment and accelerated economic and infrastructure development. Meanwhile, the 1980s saw the city diversify as it built the Jebel Ali Port and became a re-export hub for Central Asia, the Middle East, and Africa. Since then, Dubai has grown to be associated with opportunity and innovation, and companies continue to flock there to expand and enter new markets.
The city now boasts a population of 3.5 million people, accounting for more than one-third of the UAE's overall population. And it doesn't stop there.
The city estimates that by 2040, Dubai would have a population of 5.8 million, nearly doubling the existing population. This predicted increase inspired the creation of the Dubai 2040 Urban Master Plan, which was unveiled in 2021 by Sheikh Mohammed bin Rashid, Prime Minister of the UAE and Ruler of Dubai. In it, he outlines a plan that will see a major investment in growing the city sustainably in order to meet the demands of its residents and spur continuous development.
The city's ongoing growth over the next two decades represents tremendous opportunity for both established and new businesses in this region. Opportunities abound, whether it's via contributing to new real estate development, supporting digital transformation and innovation, or investing in the expansion of the health sector, among many other projects.
Dubai's infrastructure expansion: A 2040 vision
The Dubai 2040 Urban Master Plan is exciting for businesses, regardless of whether they have a presence in Dubai or not. Its ambitions are audacious: to alter the emirate and build a truly integrated, people-led metropolis that blends community with tourist, modernism with tradition, and nature with nature. In other words, the city is striving hard to meet the economic, cultural, and infrastructural needs of its rising population while also establishing Dubai as a leader in innovation and sustainability.
Here are some details.
The concept focuses on five themed neighbourhoods that promote economic growth and job creation. The Expo City Dubai and technological hub will be new, while the historic, downtown, and entertainment districts will be rejuvenated. These places will expand commercial, industrial, and economic activity to 168 square kilometres, demonstrating a desire to attract new enterprises.
The renewed focus on financial, entertainment, and cultural hubs will attract new enterprises with fresh ideas. A new technological space will attract IT entrepreneurs and investors. Dubai will remain a hub for innovation and digital development, giving businesses in saturated areas options.
The plan also calls for 55% of the population to live within 800 metres of a large public transport station. Expanding transportation infrastructure will ensure sustainable mobility for as many people as possible. Developers, planners, and advisors will benefit from the rise of these districts and their infrastructure.
Secondary facilities
Dubai 2040 Urban Master Plan will improve city services as well as infrastructure. Educational and health facilities will gain 25% space. This will create more healthcare and wellness places, such as hospitals and clinics for specialised services, allowing for more investment and development. Schools and institutions who want to open a campus in this region will have greater space to do so.
Tourism will also expand. Hoteliers, restaurateurs, and other tourism firms will benefit from the plan's 134% growth in tourism areas. Dubai is positioned to become a major tourism destination after Expo 2020 Dubai and the Qatar World Cup.
Innovation-driven growth
I've mentioned Expo 2020 Dubai twice and think it deserves more attention. Dubai demonstrated its commitment to innovation, sustainability, and mobility at the Expo. Smart city technology optimised energy grids, waste and water management, and transportation on the grounds. The exhibition grounds are being transformed into Expo metropolis Dubai, a clean, green, tech-enabled, human-centered metropolis of the future. Over 24 million people visited the city during the six-month event.
They'll shape Dubai's future. The Dubai 2040 Urban Master Plan prioritises sustainability in new development and redevelopment. Smart technology companies and those redefining digital-first infrastructure have potential.
Identifying opportunities in Dubai
Dubai has had numerous different histories during the previous 70 years. It evolved from a modest fishing village to an oil-dependent economy to a thriving urban environment that is setting the standard for digital services. Throughout these evolutions, the city's population has grown dramatically. While the rate of growth is slower than it was previously, doubling in size over the next 20 years will be no easy task.
It's time for regional business leaders to start asking tough questions. What will the upcoming developments mean for your company? What advantages would your industry gain? How will you leverage the city's plans and grow with them? What will your company look like in 20 years?
As the executive search company operating in the financial services landscape in GCC, we're excited about the prospect of new businesses looking for opportunities in this fascinating city. To us, Dubai's vision for the future means the opportunity to collaborate with new leaders, and we can't wait to get started.
​