Welcome to our weekly GCC economy update, where we present ​some highlights in the regional economy that you may have missed out on last week.
Telecoms
Although no other financial details were released, e& has increased its stake in UK's Vodafone Group to 12% and now owns an "aggregate 3,272.3 million shares, representing 12% of Vodafone's issued share capital (excluding treasury shares)". The country's biggest telecom operator, formerly known as Etisalat, is seeking to diversify its international operations. Last May, it acquired a 9.8% stake in the UK telco for US$ 4.4 billion and increased its stake to 11% last month. E& operates in sixteen countries across the Middle East, Asia, and Africa, serving more than 156 million customers.


Crypto
Genesis, which earlier in the month posted that it was retrenching 30% of its staff, has filed for bankruptcy, having been hit by the collapse of another crypto firm, Three Arrows Capital, which went bankrupt last June, owing the cryptocurrency lender US$ 1.2 billion. The firm, part of the Digital Currency Group (DCG), a conglomerate of over two hundred crypto-focused businesses, has also been charged by the SEC with illegally selling crypto assets to investors. The fall of Genesis is linked to FTX, which went under last November amid fraud allegations, and is the latest shock to rattle the crypto sector. It is also in dispute with Gemini over the fate of US$ 900 million in assets that Gemini customers deposited with the lender. Still, since November, some 340k of their clients have been unable to withdraw funds when Genesis halted withdrawals because of the volatility in the crypto markets.


Real estate
According to Betterhomes, Dubai property prices are expected to grow in 2023 – but at a much lower pace of 5%, rather than the 11% and 21% witnessed in the prior two years; last year, over 60% more units, at 92k, were sold than in 2021, with sales of apartments, 73% higher and villas just 3%.

In 1960, Dubai had a population of just 20k, which had grown 13.8 times to 276k by 1980; twenty years later, the population had more than trebled to 862k in 2000, with an almost quadrupling to 3.411 million by 2020. Last year, Dubai Media Office reported that by 2040 the population could top 5.8 million, equating to a mere 70% hike in numbers. This figure looks conservative to this observer, and the population could easily double by then. (Over the past sixty years, the urban and built area of the emirate has increased 170-fold from 3.2 sq km).

The following illustrates how numbers have changed over the years and that the occupancy rate per unit has nudged lower. The ratio of apartments to villas hovered just under 82:18, while the occupancy per unit dipped to 4.60. The 2040 calculation uses the 82:18 ratio and Occupancy at 4.46. If the population were to rise to 5.8 million by 2040 over the nineteen-year period, that would indicate an extra 543.6k residential units needed at an average annual rate of 28.6k.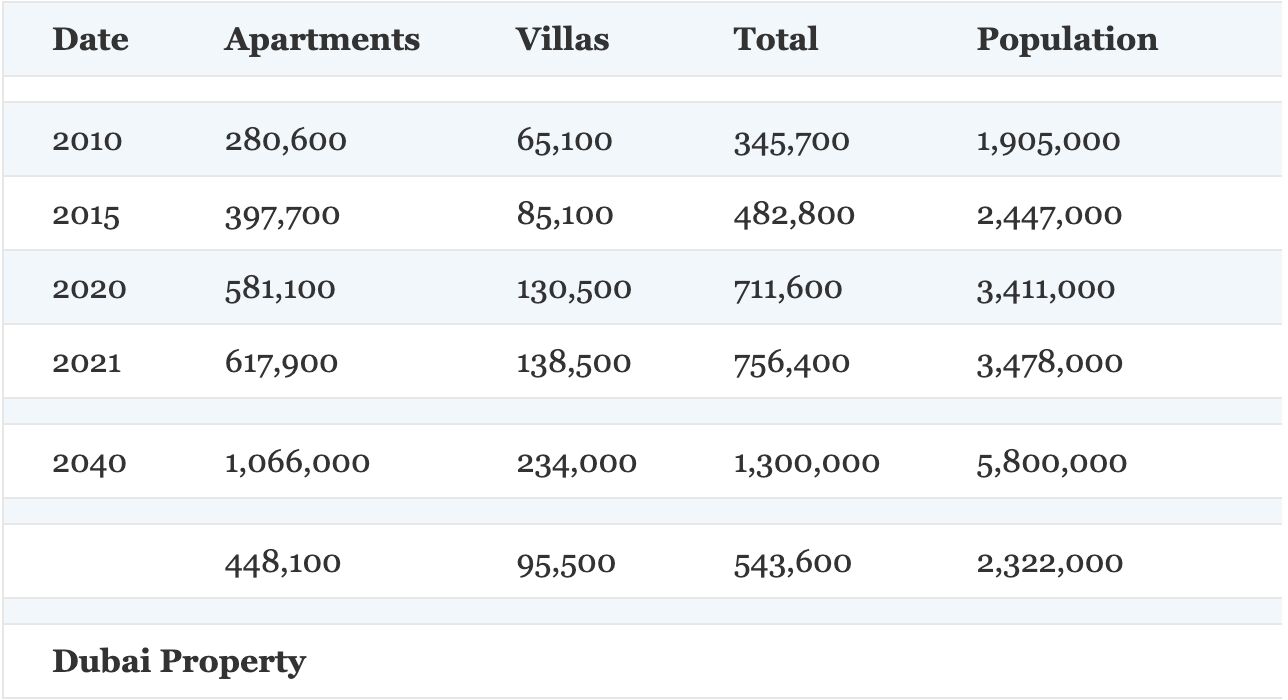 ​
Get back next week for more updates from the GCC financial markets.
#linkingBrilliantPeople