​Finding the right employee is a challenging process. The modern workplace has been evolving quickly, prompted by the impact of the COVID-19 pandemic, and the ever-evolving business technologies, so organisations are faced with new challenges when it comes to sourcing and recruiting talented individuals within the financial industry. The challenges of recent years can undoubtedly influence talent acquisition patterns in 2022 and beyond.
At Binding Partnerships, we stay on top of the most relevant industry trends to connect the brightest financial talent with the leading financial organisations within the GCC markets.
Find out why working alongside Binding Partnerships might be the best recruiting decision you make in 2022.
​
We add real value
At Binding Partnerships, we don't just provide you with a list of candidates. Our candidates are problem solvers, transition drivers, and leaders in their financial fields. They will have been rigorously researched and vetted beforehand, including a thorough interview and selection process to produce optimal results for each of our clients.
It's a practice that we've honed since 2010 and one that has resulted in:
• +90 executive placements
• 100% track record of delivering the perfect fit
​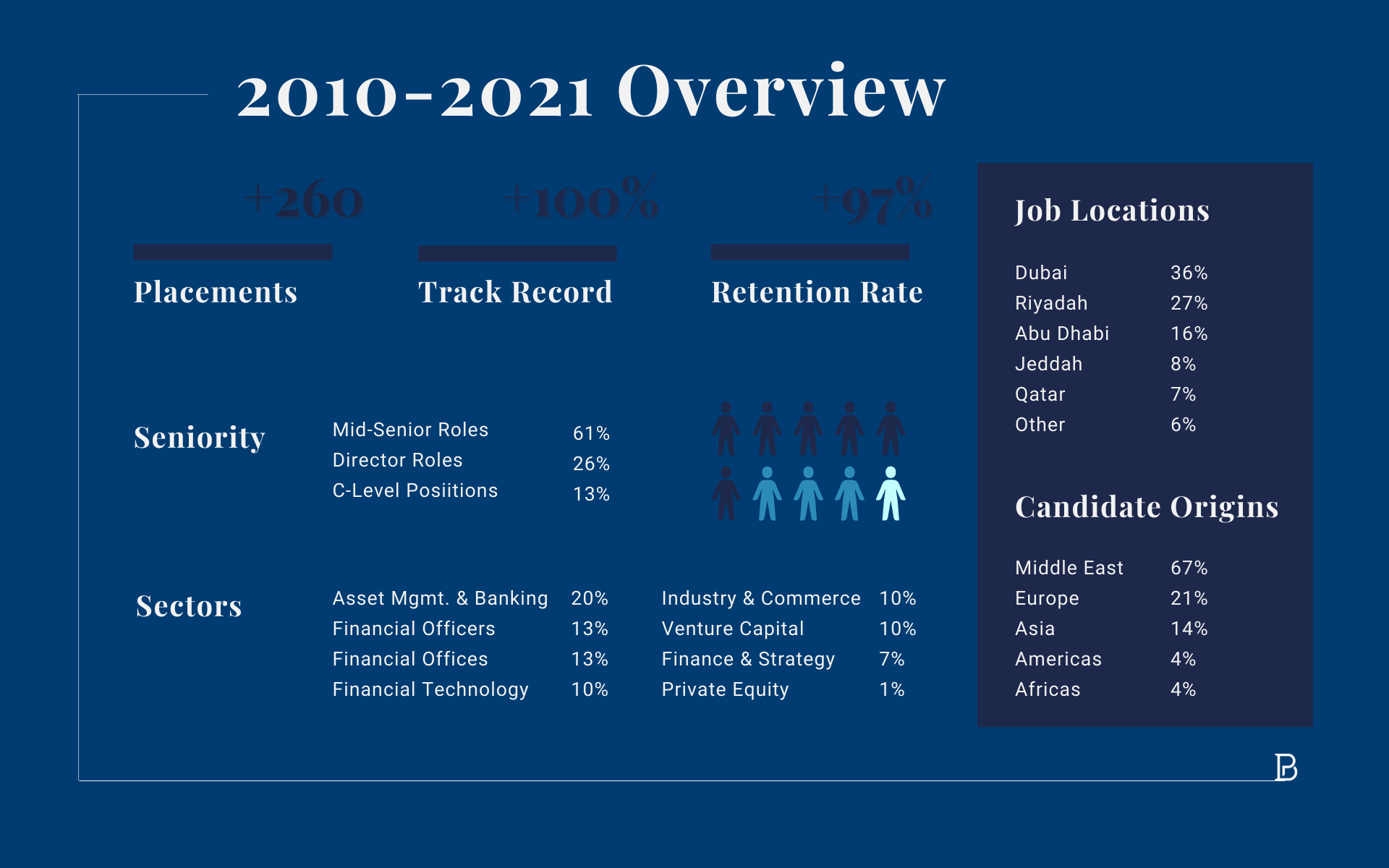 ​
We deliver quality
Clients return to us because of the high-calibre candidates, strategy, and service we provide. We've earned their trust in building the foundation of a long-term relationship. You'll notice a difference when you bring us on board. Here are just some of the benefits:
• The ability to utilise our extensive network of professionals within the whole spectrum of the financial industry.
• Saving our clients substantial time by organising the hire, approaching and screening candidates.
• Significantly reducing the probability of making the wrong hire and incurring unnecessary costs.
• Take advantage of our expertise and know-how about the local market and industry, while receiving the highest quality advice and service.
Navigating specialist markets isn't easy. But with us by your side, we'll simplify the process, find the candidates that stand out from the rest, and identify the talent that fits directly into your business.
​
We provide clarity
Right from the get-go, you'll notice the difference in how we work with you. From our interaction and strategic focus to our expertise and guidance, we're confident you'll realise that, like our network of candidates, we stand out from the pack.
We go beyond your deliverables, with a process that delves into the detail of each individual professional when seeking to fill your critical role. So, when we present you with your candidate shortlist, we already know about their background, their aspirations, what motivates them, and why they will be right for, specifically, your business.
They're maximum-potential candidates ready to make a difference within your organisation.
​
We offer flexibility
Think of us as an extension of your team. We're your go-to guy. The one with the strongest market intelligence and extraordinary insight that you just can't find elsewhere. Always there when you need us, ready to solve your problem and rise to your challenge.
And at the end of the process, we expect you to be truly satisfied that we've found the best person available that fits into your firm, with the strongest cultural fit and the ability to add major value to your team, your department, and business as a whole.

We operate a flexible approach, working hard to provide a tailored service that fits around you and your requirements.
​
We have extensive reach (local & global)
Our work spans multiple sectors within financial services, with a broad and deep understanding of the issues each business faces. In addition, our experience of living and working within the Middle East for many years means that we understand the markets, geographies, history, and culture.
We access the talent landscape within both local and global markets, searching for the right candidate for your business. International placements have been previously secured across all four continents, from Singapore and Milan to Cape Town and New York.
We know what it takes to live and move here and help our candidates through the process – from local labour laws and identifying property to lifestyle and contractual agreements. This additionally eases your path to securing the hire.
We always put clients and candidates first and will handle your search with integrity and gusto. Our whole ethos centres around building relationships with those who we work with and this continue to enhance our reputation as a premier recruiter of choice in the Middle East.
Ensure your next hire is the right one.
Get in contact today!
​